Andrea Bocelli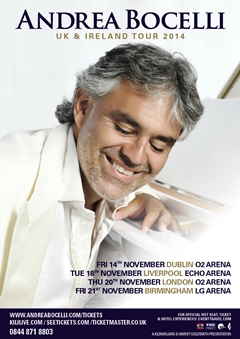 The UK and Ireland will spend
four nights
in the company of
Andrea Bocelli
in
November
, a chance to revel in the romance and majesty of this stunning performer.
Bocelli, the world's premiere classical music star, returns to arenas for four nights, with shows featuring the repertoire that has made him famous throughout the world as a unique artist able to cross boundaries between classical and pop, with songs from his latest album
'
Passione
' that will also bring a flavour of Bocelli's musical roots.
The biggest selling solo classical artist of all time, Bocelli has performed for four U.S. presidents, two popes and the royal family, as well as at ceremonies for the Olympic Games and the World Cup. He has been praised by such luminaries as Luciano Pavarotti, Franco Corelli, Zubin Mehta, Jose Carreras, Lorin Maazel, Renee Fleming and Celine Dion, who once introduced him by saying: "I heard someone say that if God had a singing voice, he would sound a lot like Andrea Bocelli." He has sold over 80 million albums around the world, his 1999 Sacred Arias album has sold over 5 million copies, making it the best selling classical recording of all time. His pop career, including the much loved Time To Say Goodbye, a duet with Sarah Brightman that reached Number 1 in charts around the world in 1998, may have drawn millions in, but Bocelli has always enthusiastically shared his classical calling.
SOLD OUT

Tickets

Tickets

Tickets