The Cadillac Three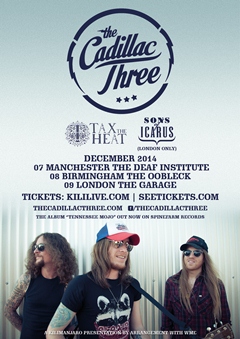 The Cadillac Three

, formally The Cadillac Black, whose members include native Nashvillians Jaren Johnston, Neil Mason and Kelby Ray have been friends and musical co-conspirators since they were kids. They've weathered their wild teenage years and even wilder tours, weathered major label letdowns, major league triumphs and a major name change, conquered Music Row – Johnston co-wrote Keith Urban's #1 single "
You Gonna Fly
" – and crashed on the couches of strangers in far flung cities. These boys have seen more ups and downs than a Smoky Mountain tour guide.
But in spite of all the trials and tribulations – or perhaps because of them – The Cadillac Three have emerged with a sound all of their own, a sound that hovers between radio-ready country anthems, hard-and-heavy rock and traditional Southern folk. You could call it country fuzz, you could call it hipster-billy, you could call it any number of over-hyphenated, adjective-strewn things but when you boil it all down there's only one way to describe it: damn good music, as pure and refreshing as a country creek.
Following a performance at this year's Sonisphere Festival and a sold out show at The Lexington,
The Cadillac Three
return to the UK this
December
for three shows in
Birmingham
,
Manchester
and
London
.